This nutrient dense drop biscuit is easy and quick to mix up, tastes lovely, and is paleo and keto friendly! Grain free almond flour gives it a cheesy, nutty flavor, and the garlic and nettles pack a healthy punch! Perfect for sneaking protein and fat into picky toddlers or preschoolers, and good for baby-led weaning!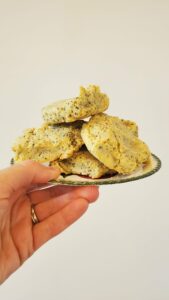 You can also easily make these without garlic or nettles, and they are still delicious!!!  Make sure you are using a high-quality dried nettles, once I did this with old dried nettles from Trader Joe's teabags and it was not yummy! The ones from Mountain Rose Herbs are delicious.
Also- I leave out the garlic if my little ones will be eating. The taste is just too strong for them!