I am a big fan of nature-based and play-based preschool, so when the pandemic happened, I decided to start a gentle, nature and play-based homeschool routine.
We mostly play and go outside. But as time has gone on, we've introduced some small more formal schooling elements, at the request of my 5 year old son.
Honestly, most days I am LOVING our preschool homeschool.
And having a gentle daily homeschool rhythm helps me tremendously.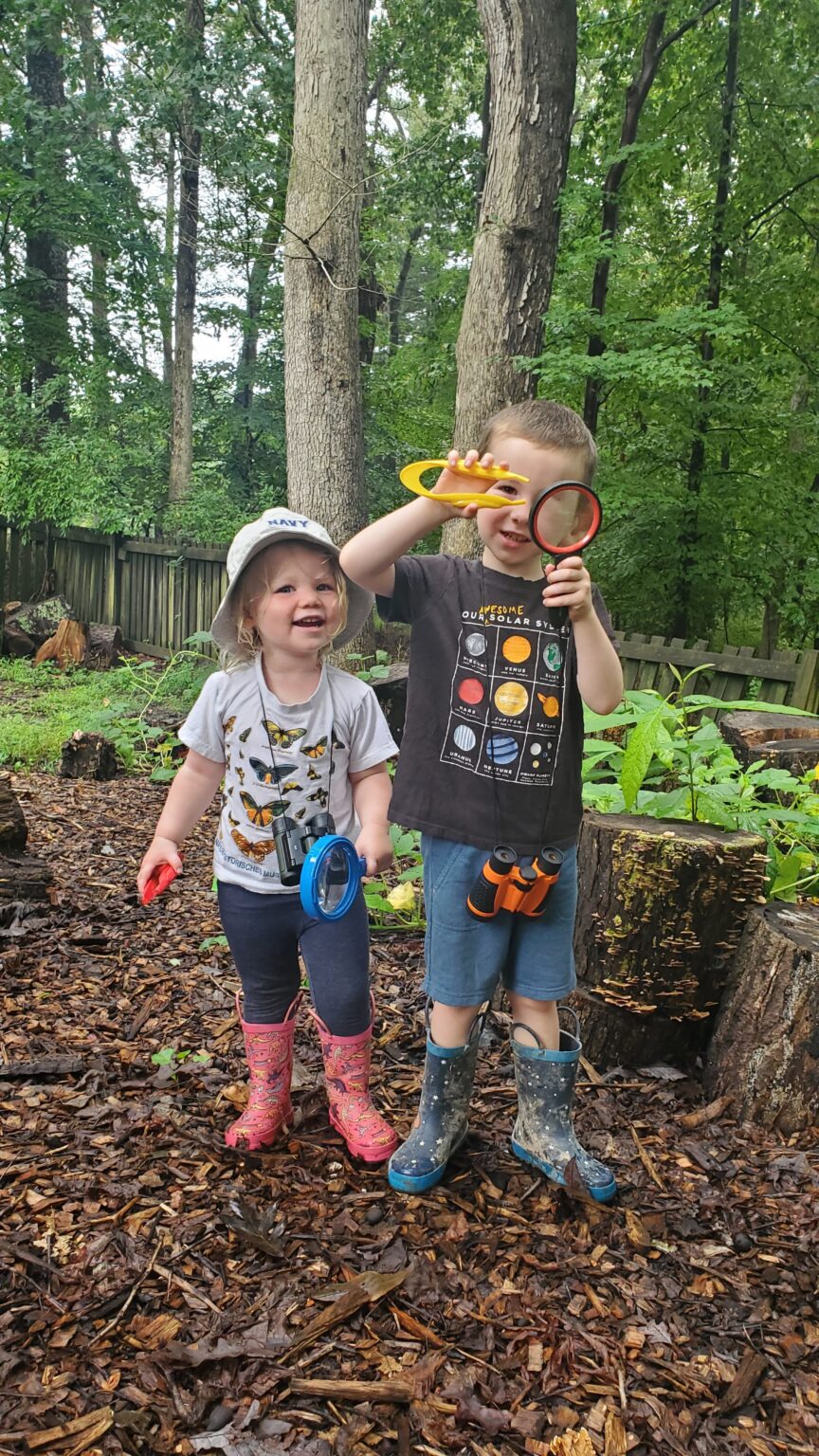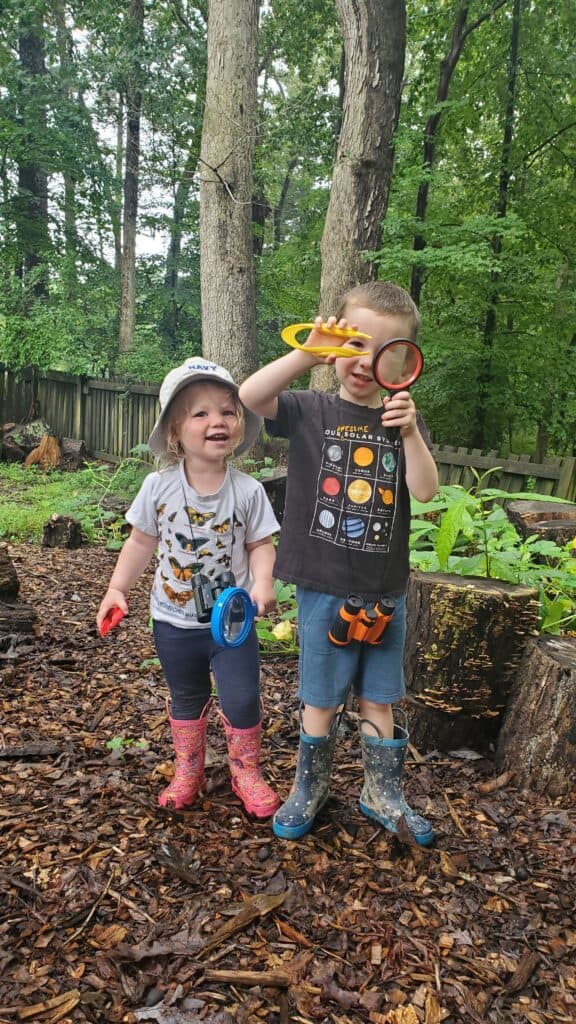 Jump to:
Why I am homeschooling my preschoolers
I never thought I would homeschool. My friends and family would say, "You should homeschool! You'd be great!" And I would be like- NO WAY. My children are going to public school and going to love it!
And then, one day, a global pandemic happened. Preschools closed, and my sweet 4.5 year old boy came home. And you know what? I loved it.
It took a few months to figure out a daily rhythm with my now 5.5 year old and 2.5 year old, but what we have found is very, very special.
And I'm not sure I will want to let it go.
Of course, I'm not sure when the global pandemic will end, so I suppose I'll just hold on to it while I can!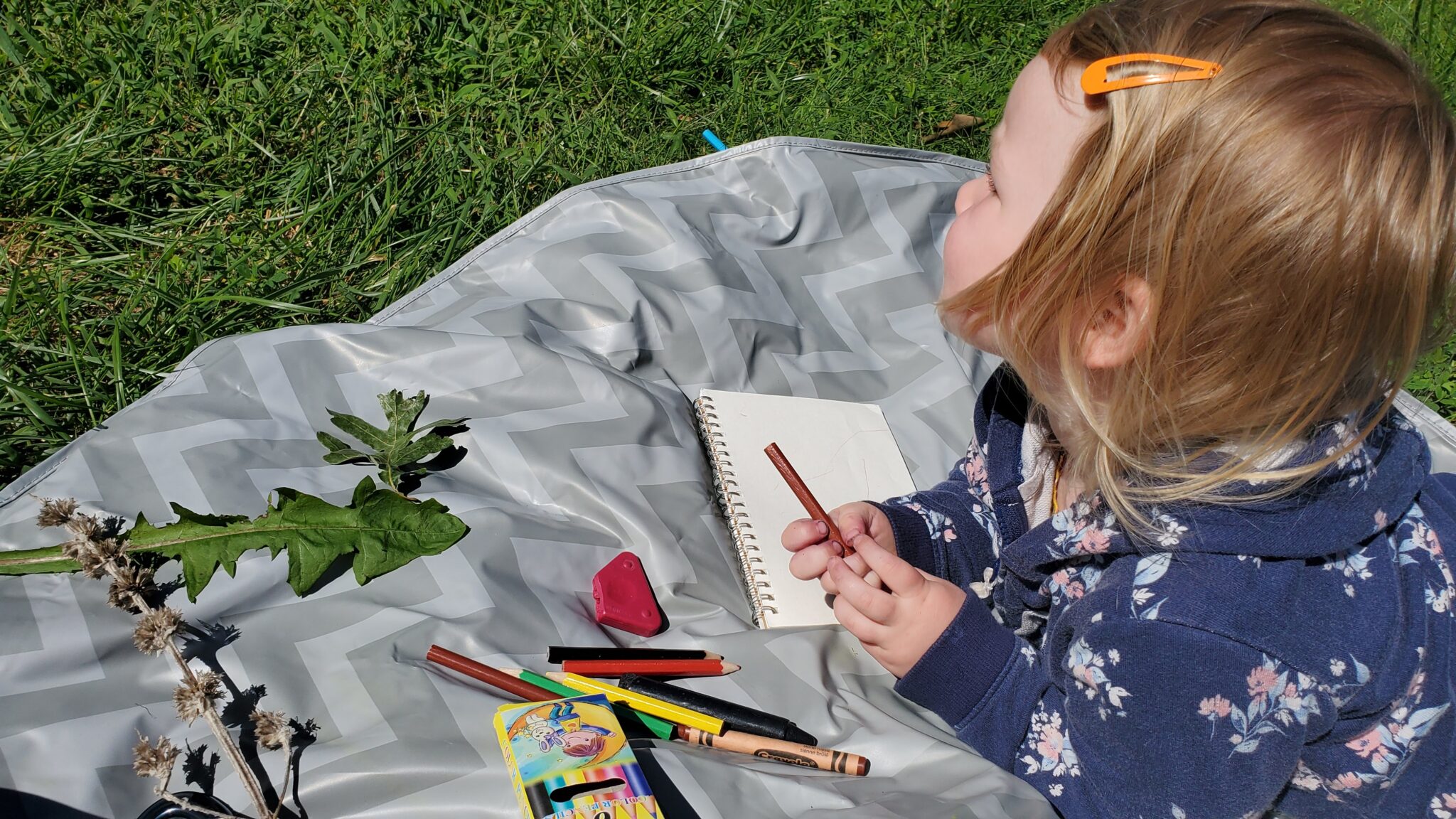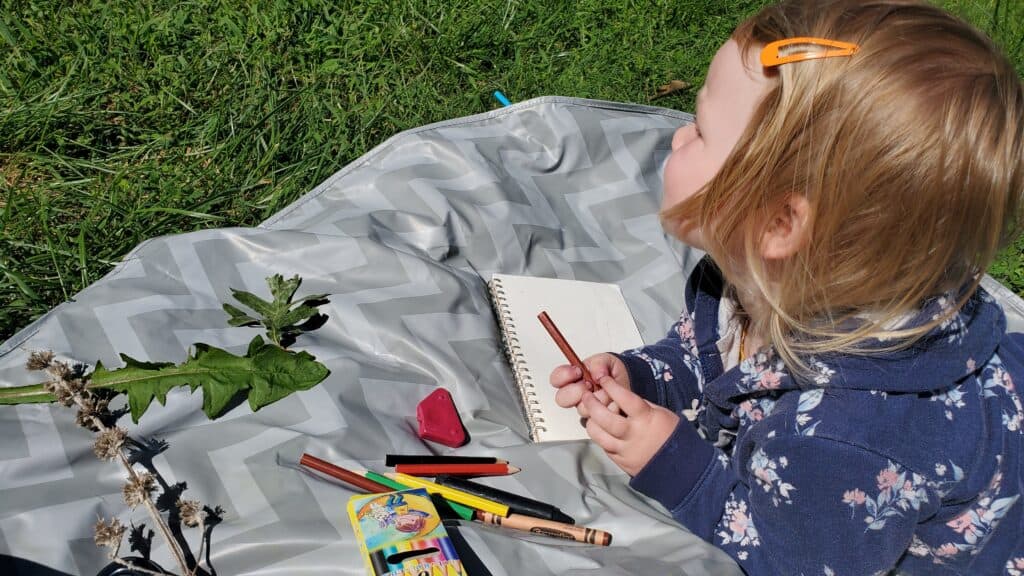 Play-Based Toddler Homeschool Schedule
Okay, if you have a two year old or three year old, all you really need to do is play. Free play- outside, gross motor, building with blocks, reading books etc.
But here is the thing. If you are reading this blog, you are probably Type A like I am. And your toddler might not need a schedule, but YOU might to keep sane.
I get it. I'm there. And when you add in multiple ages- like my 2 year old and 5 year old- you really need some kind of daily homeschool rhythm to make sure you and your kids are getting everything you need.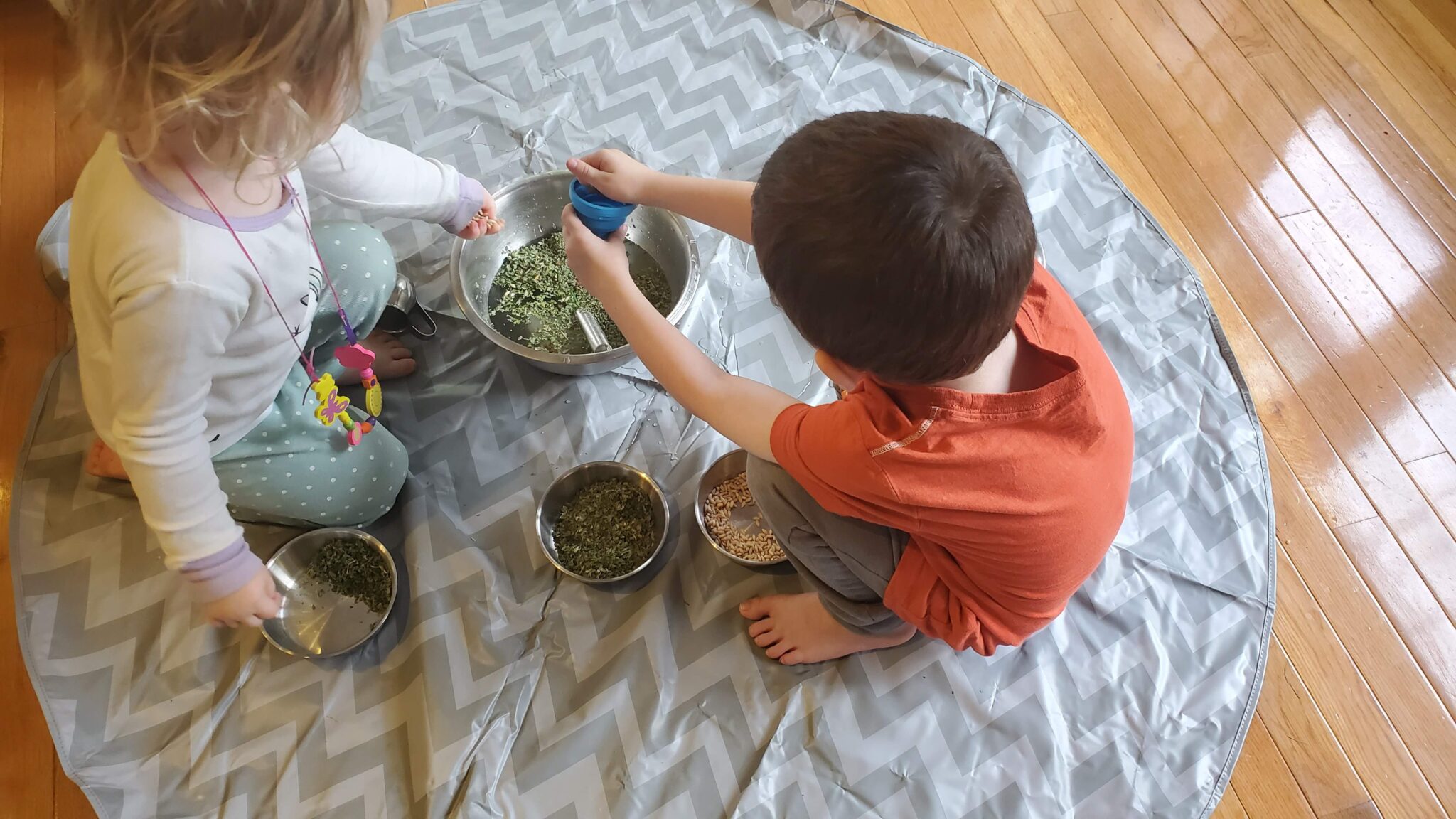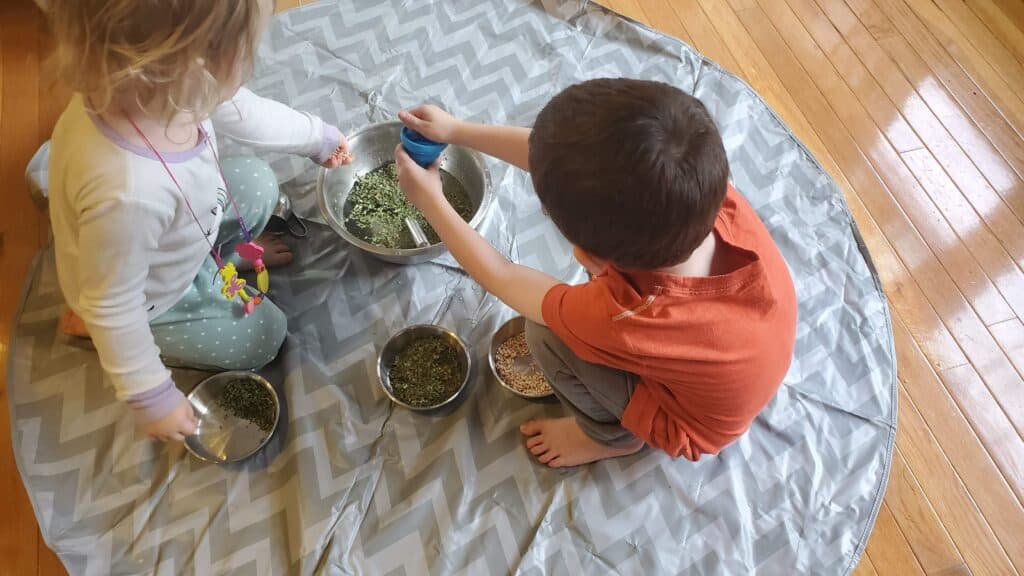 Nature-Based Preschool Homeschool Schedule
I am into play-based and nature-based preschool. Pre-pandemic I sent my son to a play-based preschool that was primarily focused on play and social skills. The worked in lots of fun fine motor activities and math, but there were NO workbooks, no drills, no memorization, no phonics. And I LOVED IT.
We had actually decided to keep our summer baby boy in Pre-K for one more year because I loved it so much. I wanted him to have one more year of play before the rigors of Kindergarten (and I do mean rigors, in our town Kindergartners write paragraphs and work on screens for 4+ hours a day).
But then, ah, pandemic.
So I had to figure out my own homeschool preschool philosophy. And let me tell you- it is still the same. Play-based. Nature-based. Lots and lots of read-alouds. And, NOT TOO HARD ON MOM.
So while we do a calendar routine, finger plays, rhymes, books, math, language, music and dancing, large motor, etc., We just PLAY and add them in! I also teach A LOT with books! Read alouds are fundamental to our day.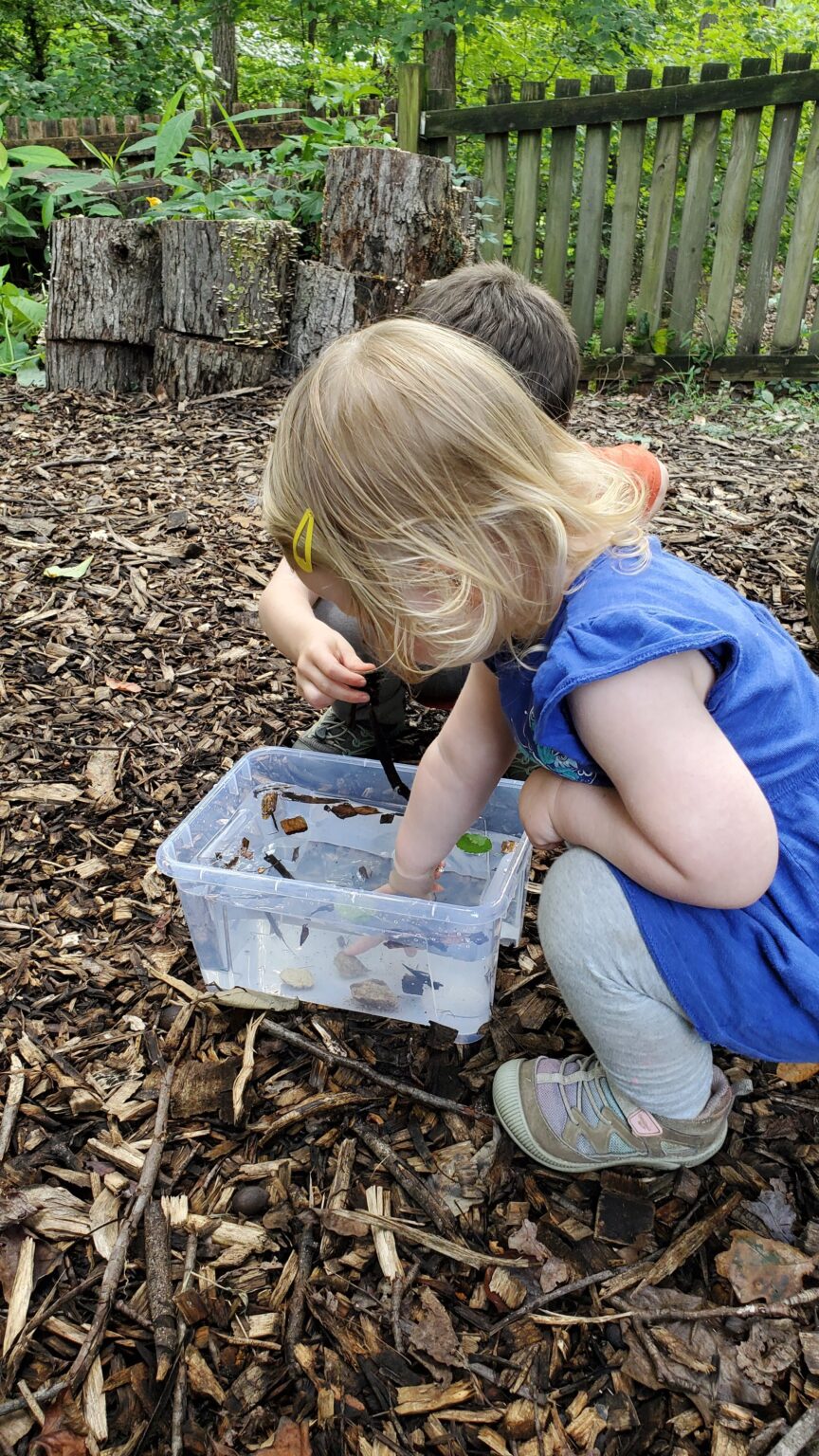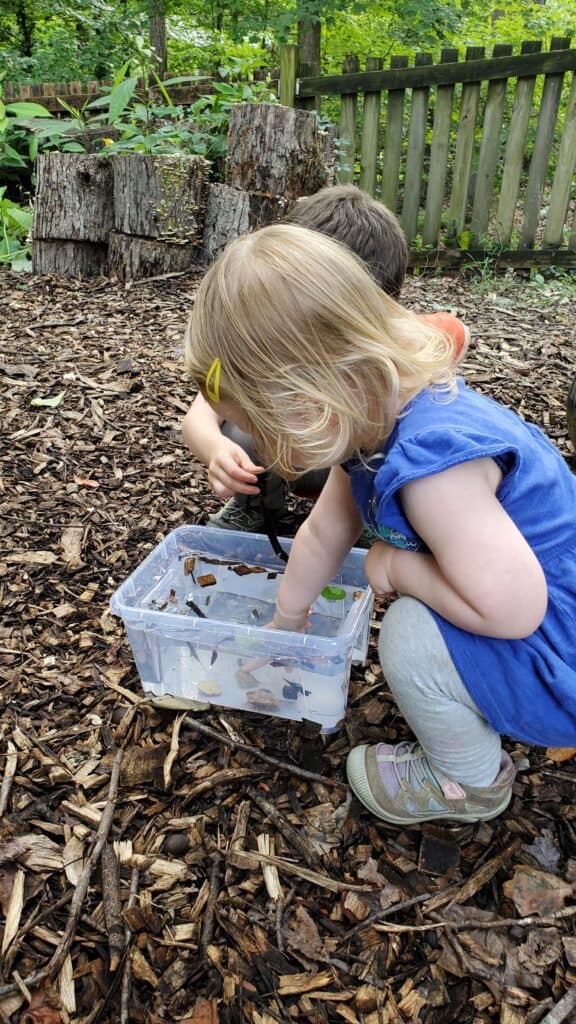 Our Homeschool Preschool "School" Time
Why we decided to have formal learning time in our play-based homeschool preschool
At first, I didn't have any separate structured time for my 5 year old son. He just needs play and the outdoors! But then a few things happened–
First, he got really into math.
Like, super crazy, nerdy, incredible into math. I thank the Netflix series Number Blocks for starting the madness.
Anyway, I bought him all these awesome math manipulatives. He loves them! He is so creative with them, and its so easy to do math on the fly, without a workbook, or worksheets, etc.
But here's the problem- his sister destroys all math manipulatives. Sends them flying. He goes into hysterics.
So, anyway, I need a time for him to use his manipulatives that was separate from his sister.
Second, he asked to learn to read. I wasn't planning on teaching him to read this year. I'd read about how in Finland the kids aren't taught to read until they are 7, an age when it is easy for everyone, and I figured I'd put it off as long as possible.
But, my son was craving the independence of reading. He loves listening to long chapter books, and he watches us read our books, and wants to be able to escape with a book. I don't blame him! Update: We used Teach Your Child to Read in 100 Easy Lessons and it WORKED! He is now reading easily and confidently!
Third, I craved time with my son. I love playing with both my kids, but as my 2.5 year old becomes more demanding, I find myself missing quiet time with my son. We make our "school time" fun and it makes it a nice, quiet, reconnecting time.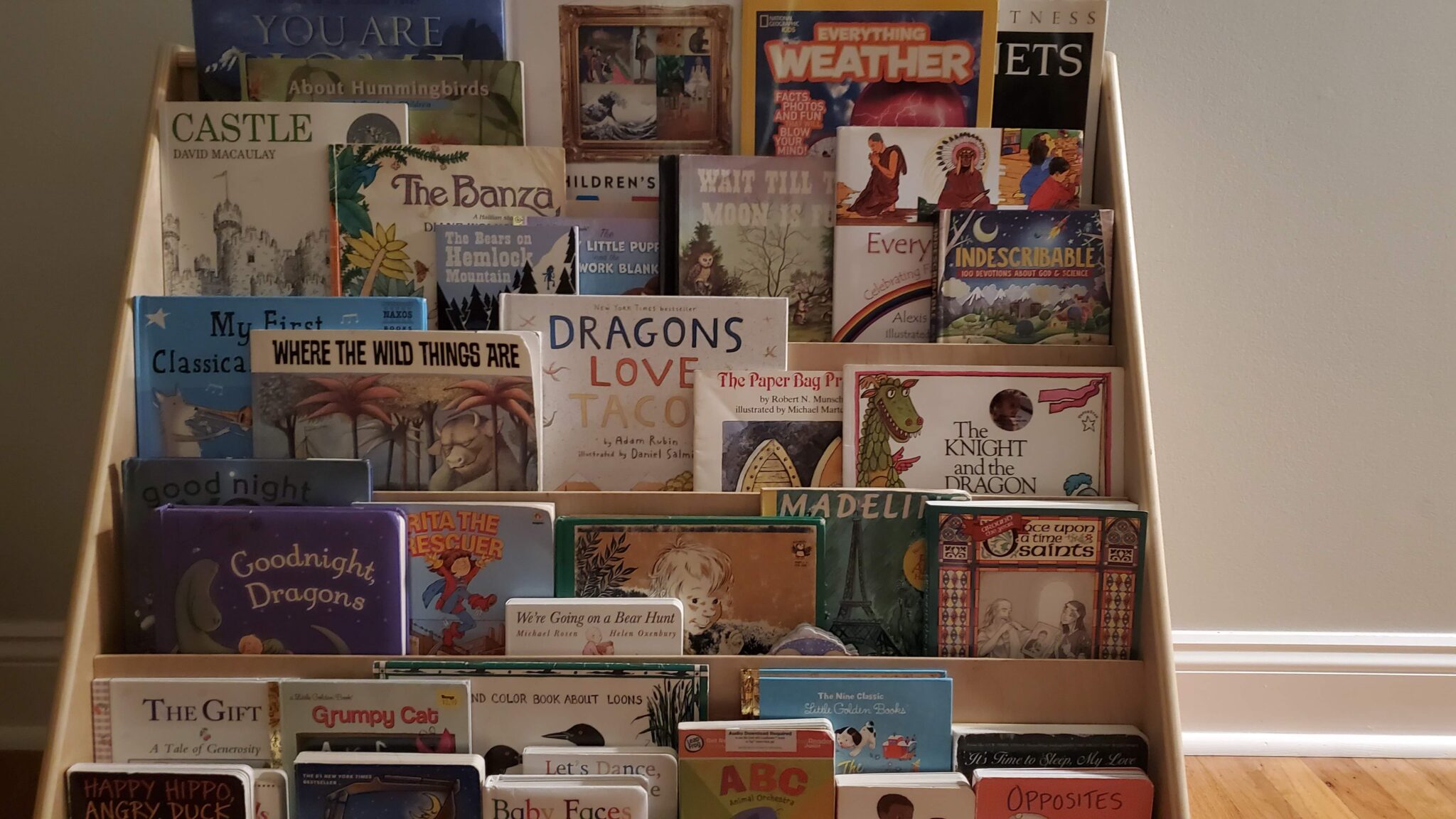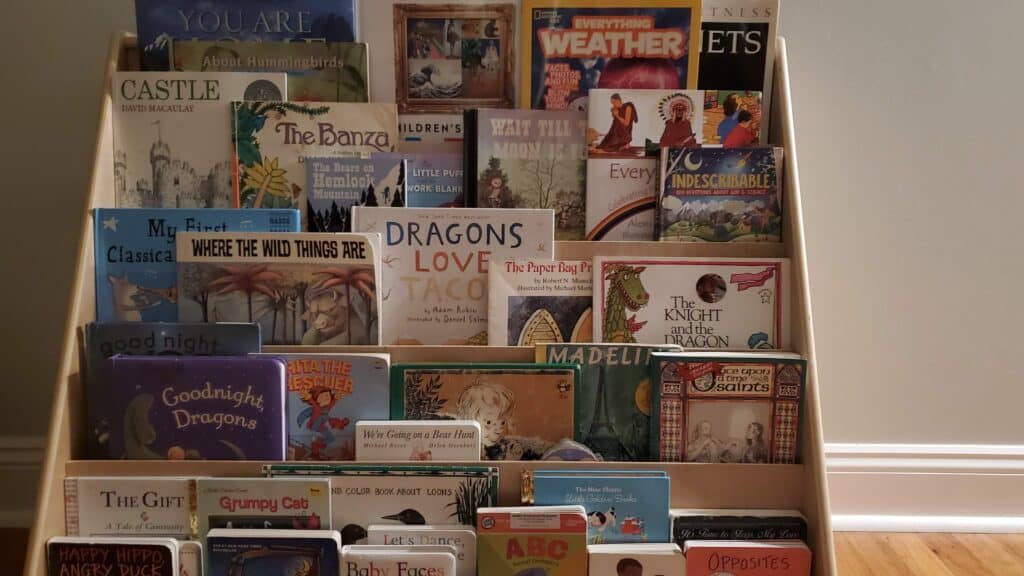 What Our "School-Time" in Homeschool Preschool Looks Like
Each day is a little different, but we ensure that we have about an hour of what we call "School time" each day. This doesn't include nature time, circle time, rhymes, songs, read-alouds, and play, which are the true heart of our homeschool. But this is what my son considers to be "school time:"
That's it! It takes under an hour and we do it while my 2.5 year old either naps (God willing), plays (God willing), rests (God Willing), or watches TV (Let's be honest).
By the way, if you google, "how to homeschool with a toddler" the results are hilarious. Who honestly thinks an exhausted and manic 2.5 year old is going to sit quietly with duplos while mom gives one on one school time to an older sibling?
Let me just say, she won't. She will poop and smear it all over the house and squish it through the mesh of the mini-indoor trampoline. That isn't hypothetical. It happened on Tuesday.
Our Simple Daily Play-Based Homeschool Schedule for Preschool
Our "homeschool" is play and nature based. We spend as much time outside getting Vitamin N as we can :-), and we try to have as much free-formed play as we can. Simple family rituals are woven into our daily rhythm that make our days feel special instead of like "school." We really only spend about 45 minutes in traditional "school" type work, and that is only because my son asked for it!
We are also VERY flexible with most of our day. If we have an opportunity to go do some interesting adventure, we do it! If we get wrapped up building blocks, we just go for it. I feel like for these ages, everything is smoother when we just spend our days enjoying each other and choosing activities like play-doh, coloring, blocks, tracks, music, dancing, and outdoor playtime.
Honestly, I prefer to call it a Rhythm rather than a schedule!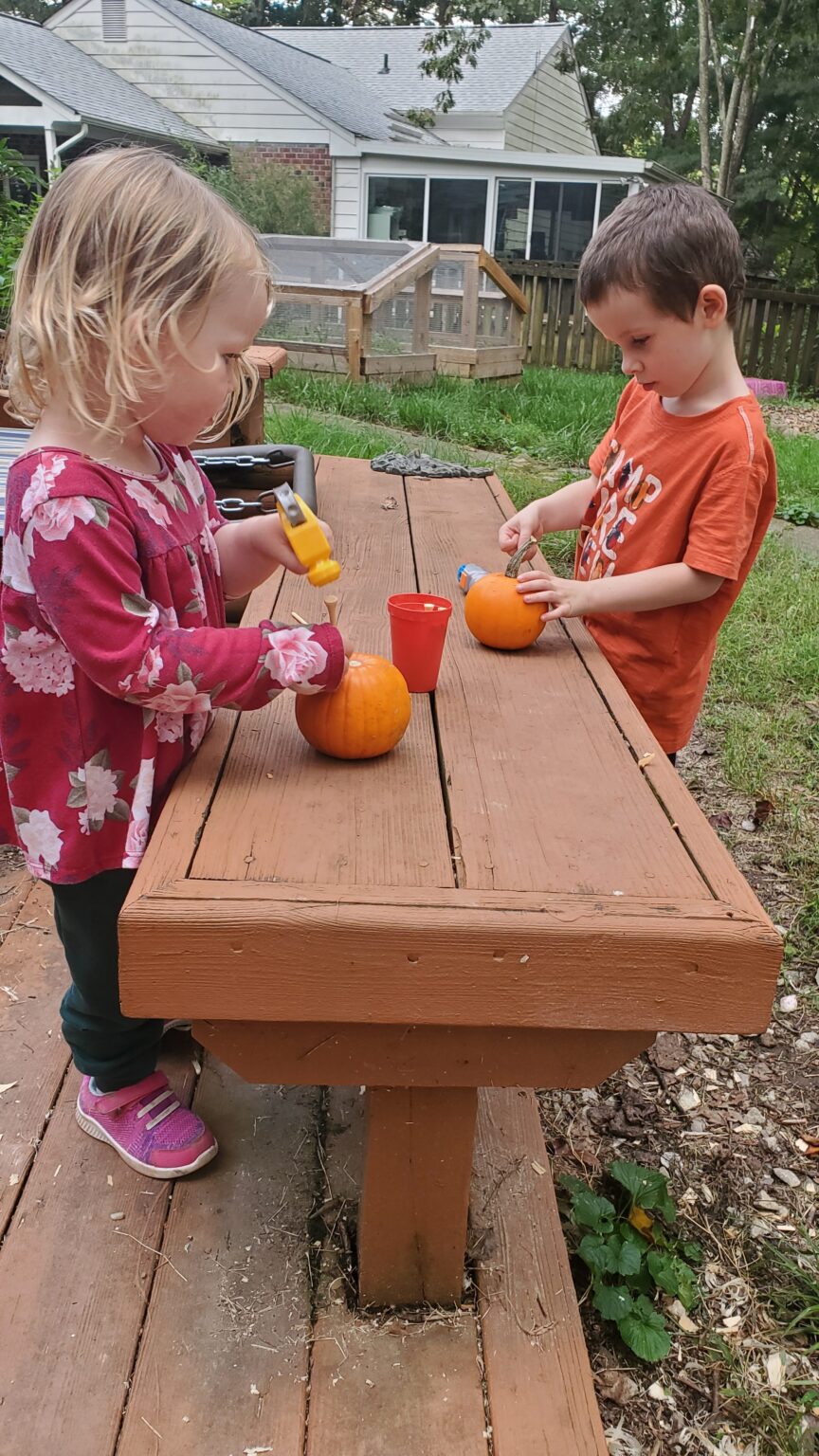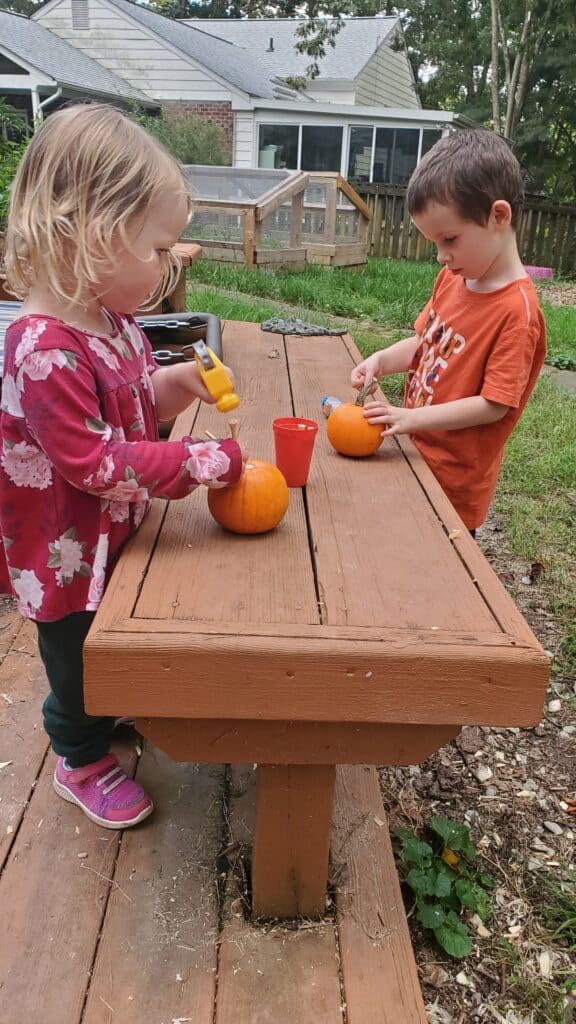 Daily Nature Homeschool Schedule
6:00 am- Wake and snuggle! One of my favorite parts of the day.
6:30 am- Breakfast with morning prayers, rhymes, and poetry. We also do our Calendar Routine during breakfast. Possibly my second favorite time of the day :-).
7:00-8:00 am- Clean up breakfast, free play, and get dressed for day
8:00-8:30 am – Circle Time with nursery rhymes, marching/dancing, music, and a story
8:30am-9:30 am- Child-led play OR Mom-led activity (baking, playdoh, crafts).
9:30 am- Snack Time.
9:45 -10:45 am- Outdoors times
10:45-11:00 am- Lunch Prep
11:00-11:45 am- Lunch
12:00 pm- Lunch Clean Up
12:00-12:30 pm – Storytime
12:30-1:30 pm- 2.5 year old rests/naps/or watches tv; Mom and 5 year old "School time" (see above for details)
1:30-2:30 pm- Free play or mom-led activity (gross-motor, yoga, ballet, crazy dancing, other)
2:30-2:45 pm- Snack and books
2:45-4:30 pm- Starts with a 20-minutes mom-led Nature activity, then Outside Free Play
4:30- 5:00 pm- Prep dinner
5:00-6:00 pm- Dinner
6:00-6:30 pm- Baths or Family Time (lately, daddy gives 2.5 year old bath, while I read books or play a more advanced game or puzzle with 5 year old)
6:30 pm – Jammies and Family meeting where we do our simple gratitude routine and say the Lord's Prayer
6:45 pm- Pee, brush teeth, and then books and snuggles in bed. We switch off nights with parent/kid combos.
Generally kids are asleep by 7:15 or 7:30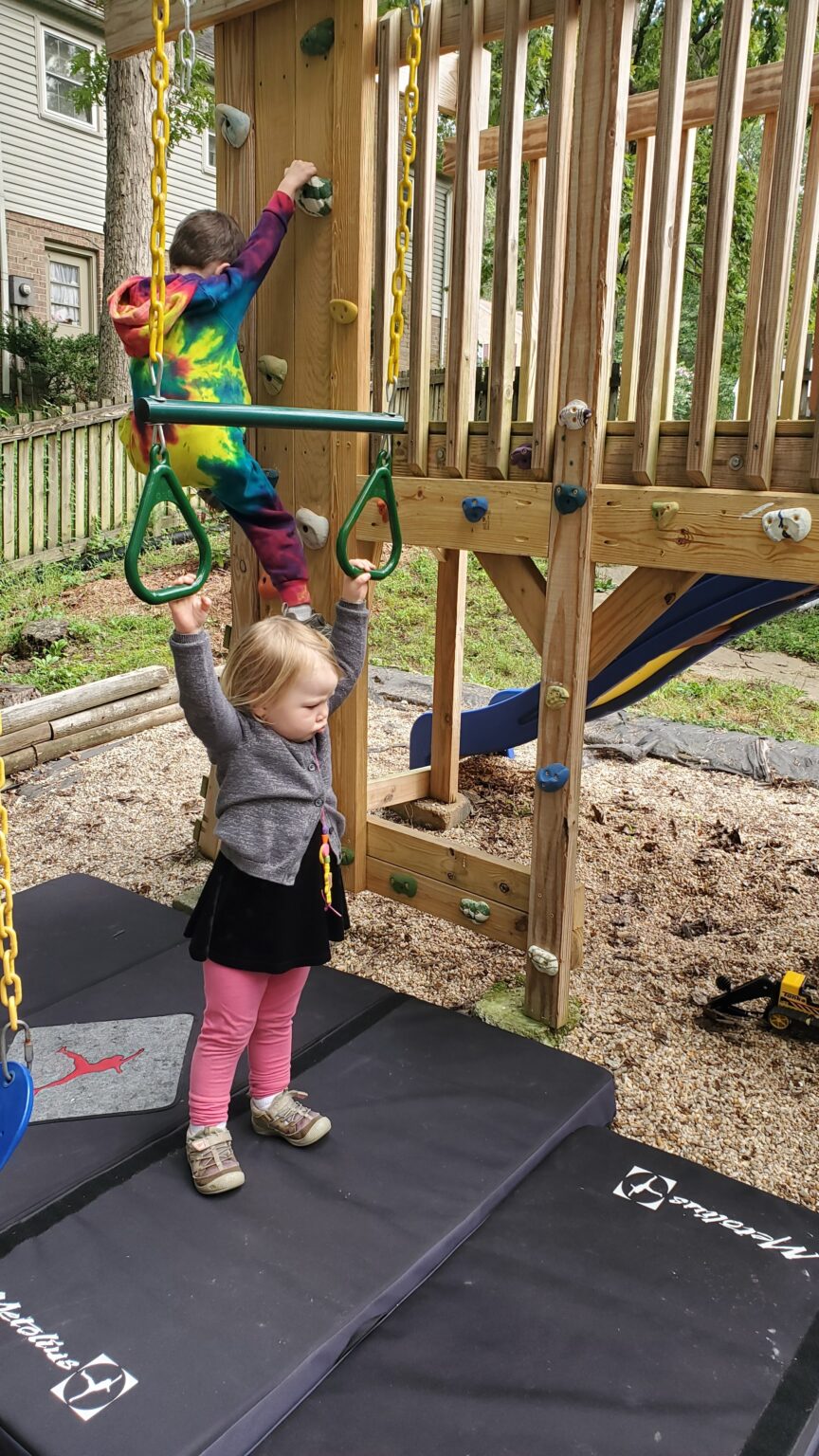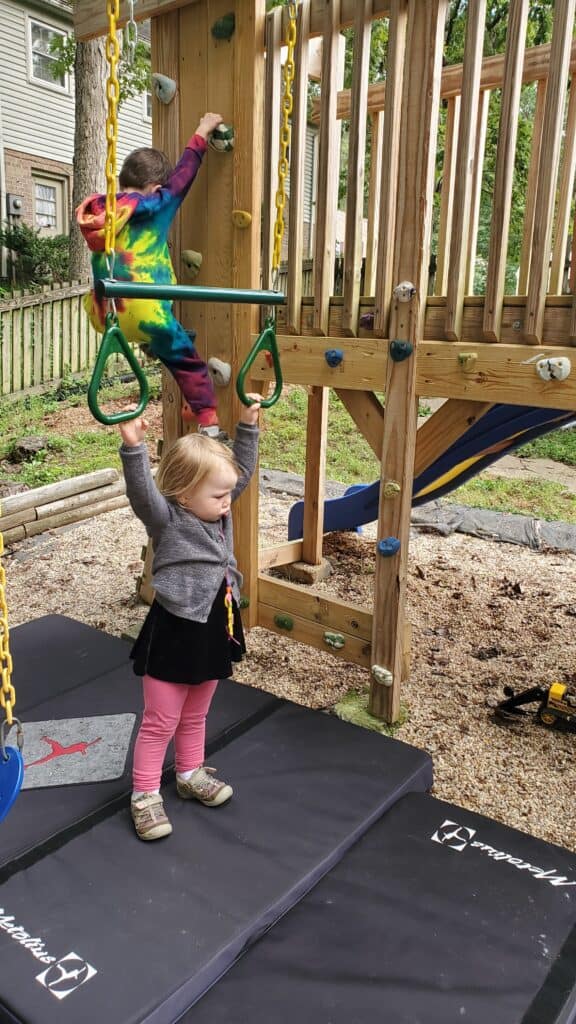 Should a Preschool Homeschool Schedule Be Very Detailed?
Okay, so, look. It isn't like I'm freaking out if we haven't switched from a free-play activity to Nature Preschool RIGHT AT 2:30. Each day flows as it will. We allow in a lot of time and flexibility. We also have mornings where we go on hikes or adventures and that takes up the whole morning from after breakfast until before lunch (and sometimes we have lunch on the trail!).
The reason it is so detailed is because, it HELPS ME!
The only things that we make sure happens every day are:
Other than that, this schedule is a guide. It's a rhythm. Ideally, IT JUST FEELS LIKE play to my children. That is the real work of preschool- play! Well, that and developing social skills, but we are kind of at a loss for that during the pandemic.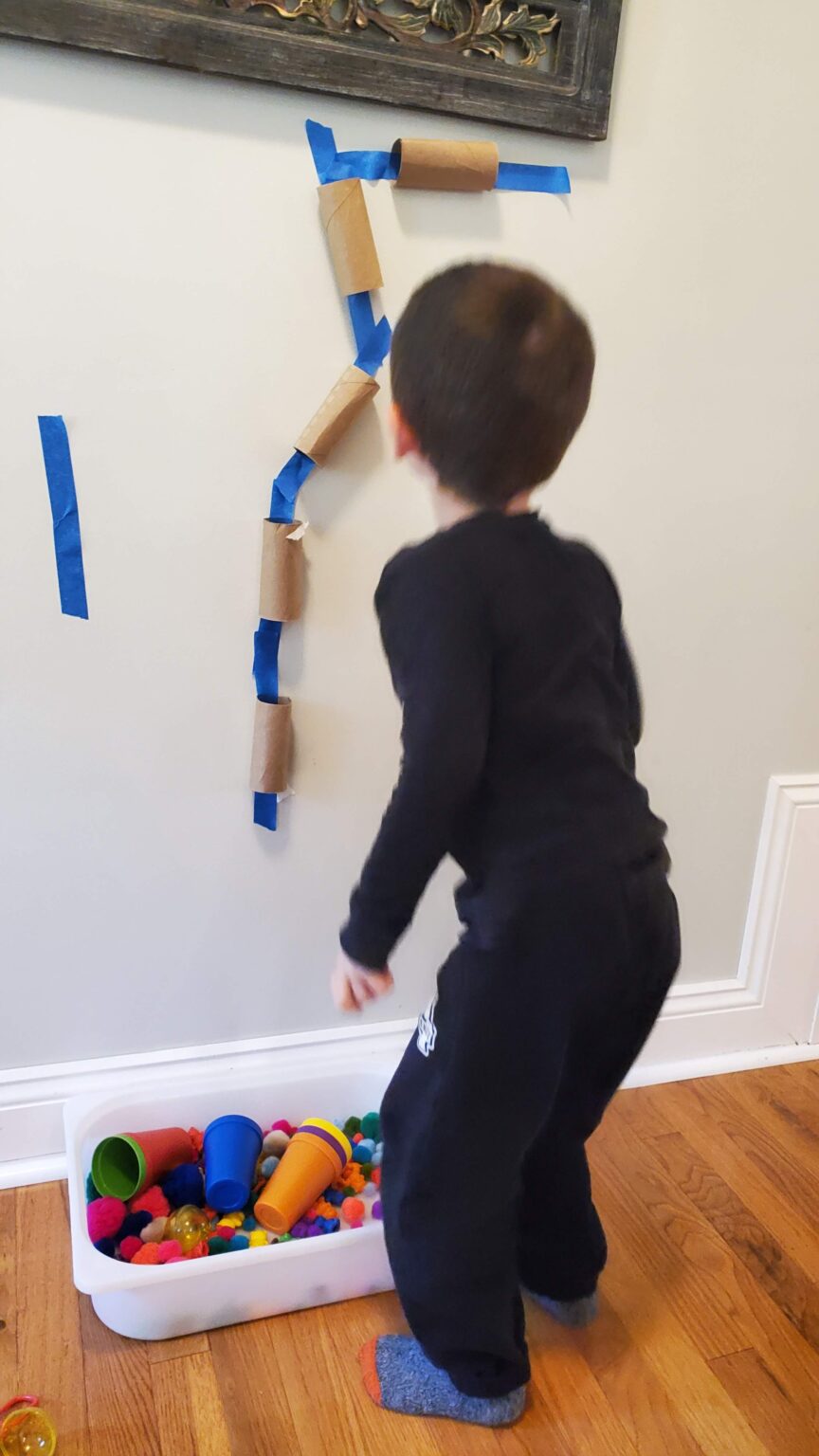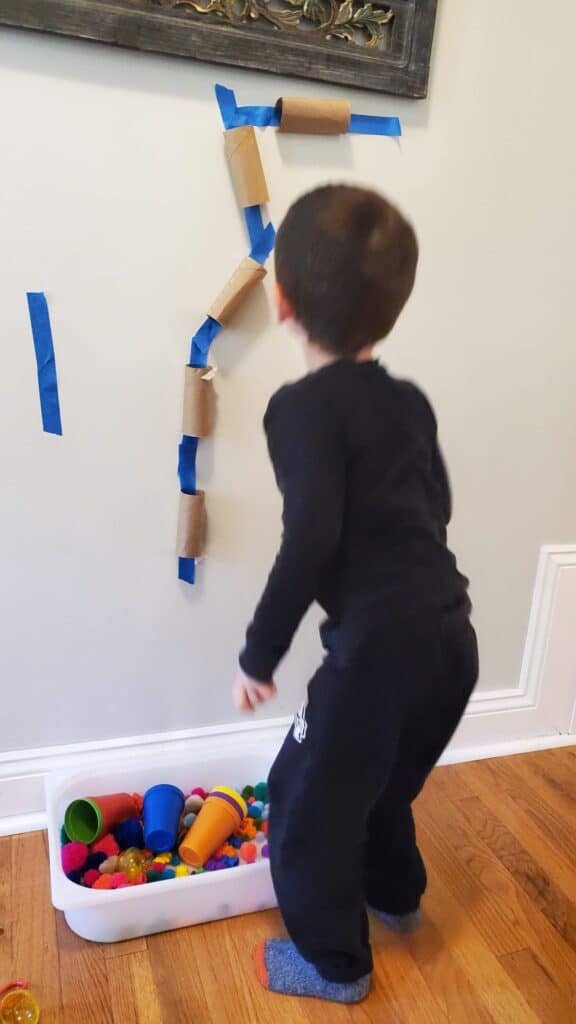 Non-Negotiables in our Preschool Homeschool Schedule
There are very few things that aren't negotiable or flexible in our daily rhythm. We can play, we can hike, we can go outside, we can be inside, we can do crafts, baking, etc., on a whim. I'm not a slave to the schedule. AT. ALL.
And, when we go on vacation, which we are lucky enough to do often even in this pandemic (my parents have a hide-away in the woods), we throw the schedule out. It usually just becomes being outside and hiking, exploring, playing all day.
But a few things are non-negotiable. Lunch time and dinner time. And Family Meeting Time. Because bedtime flows from family meeting time! And I need bedtime. Because then I can come up here to my computer and type :-).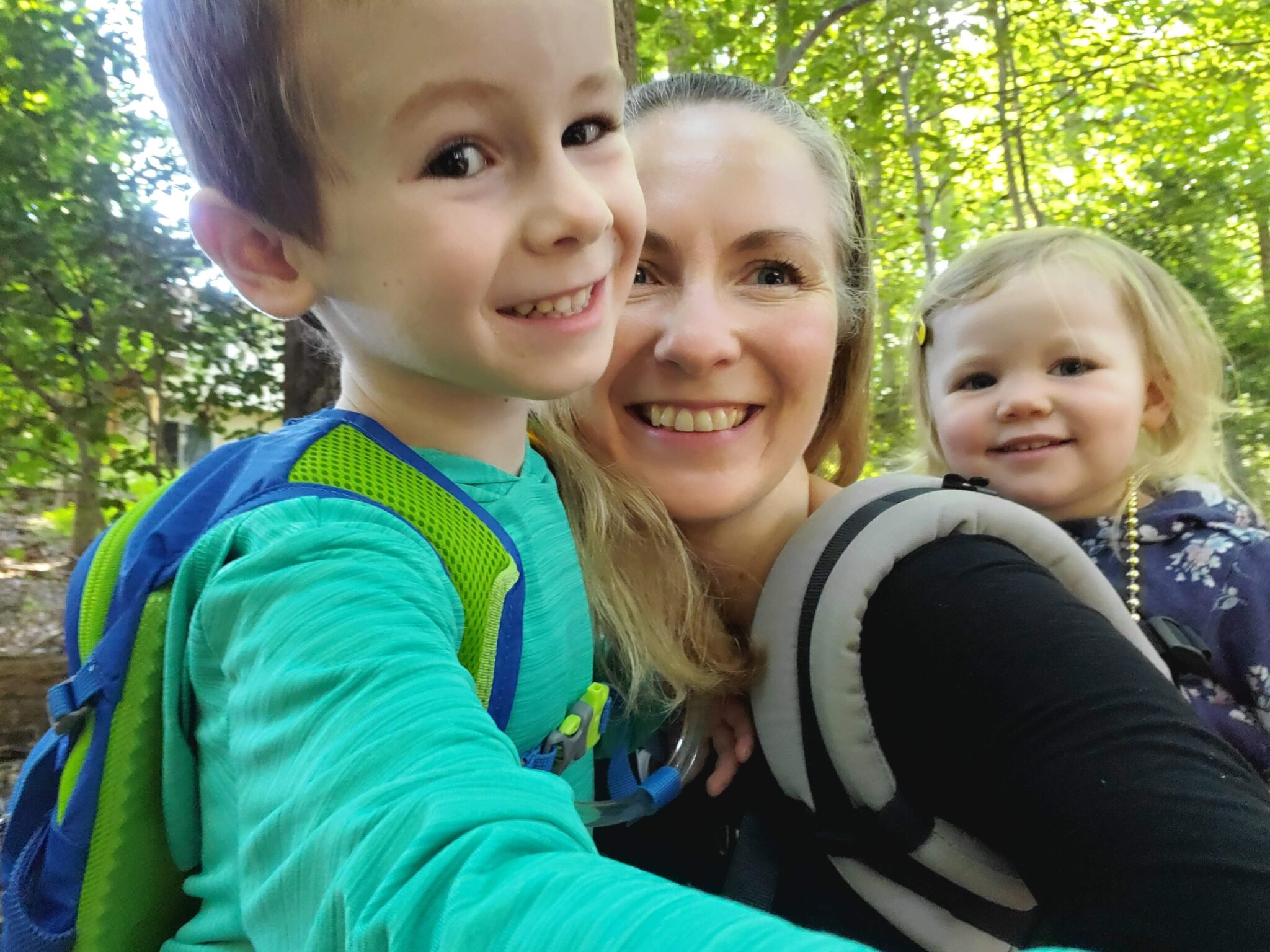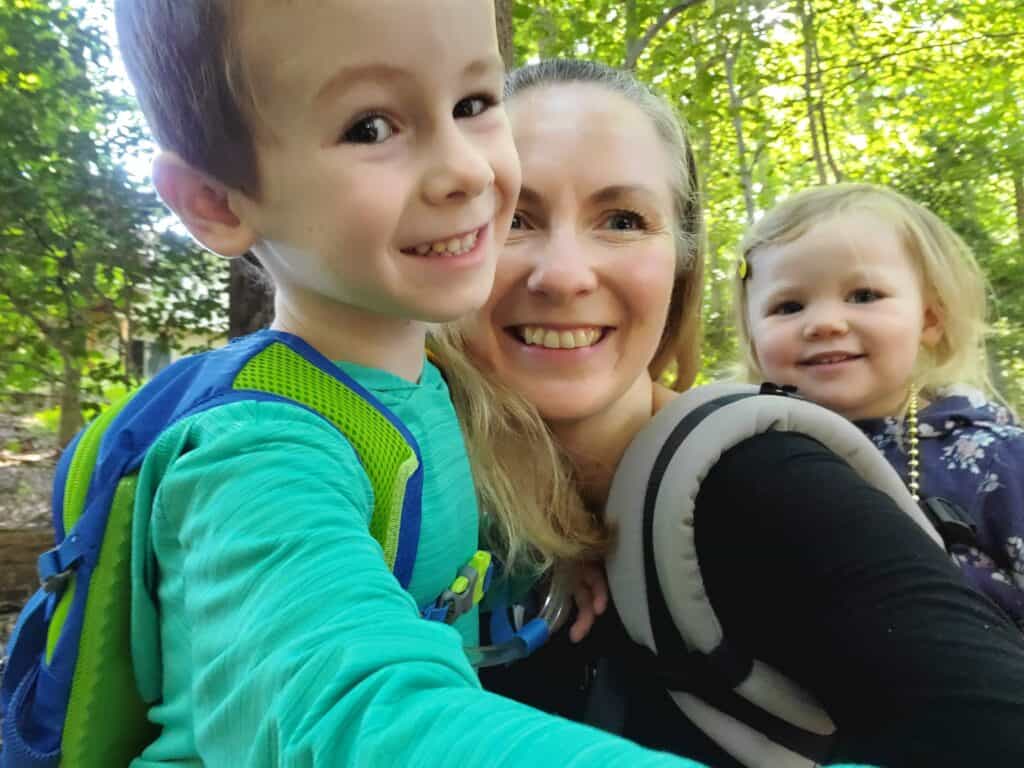 The problems with this Homeschool Preschool Schedule
Did you notice the glaring problem with our schedule? Very little free time for mom. That means that generally my house is a mess and I work on my business- this blog, my fertility blog, and my clean beauty business, at night.
Basically after the kids go to sleep, hubby cleans and I type. Sometimes we can't handle it, and we have an afternoon where we all clean together, or I put the kids in front of the tv and I get some blog work done.
Before the pandemic, I had my son in afternoon preschool (AMAZING), and while he was there my daughter napped.
IT. WAS. GLORIOUS.
I got a full two hours to myself every weekday afternoon. BLISS. I could rest. I could clean. I could blog. I could eat cookie dough and watch Outlander. WHATEVER I WANTED.
Homeschooling because of the global pandemic
But then this little global pandemic happened, and preschool went away. And we are very conservative in terms of avoiding contracting the virus, so we don't invite babysitters into our home.
So basically, we're struggling with our time. Hubby is working a full time telework job, I'm working the equivalent of a full time job online, and I'm trying to be a magical, perfect homeschool mom.
It's too much. Generally what takes the hit is my work and my free time.
But, it's all better with a rhythm.
So if you are also homeschooling because of the pandemic, I wish you well. Sending you good vibes!!!